Guitar lessons, Classical (Spanish) guitar lessons in LA and Clermont Florida with James Hunley
Imagine looking forward to every lesson! No Guilt just growth!
The classical guitar is an amazing experience to play ! Lessons can be something you're looking forward to!
My studio is in the Larchmont Village, Hancock Park area of Los Angeles at 5152 Maplewod ave LA CA 90004
The 3 things that set my teaching apart
1. I have an

amazing ability to be patient

with people learning new movements. I never make people fell bad about
the process of acquiring habits of movement or developing performance skills.
2. I can describe and

communicate

exactly how to make each movement needed to play,
joint by joint if necessary,

I teach the refined essence of playing that's only acquired from decades of

experience

.
3. I focus attention

on the good

aspects of students playing, not just the things that need improvement.
A brief bio of James Hunley
James Hunley's early studies were with Miguel Bernal, a student of Andres Segovia, at age 16 he began studying with Prof. Frank Koonce at ASU,
Mr.Hunley was awarded a full Sponsorship to SFCM by Texas Oilman Hal Noelke. After the Conservatory, James spent 3 year cross referencing 17 major guitar schools, page by page, to outline the essential elements of technique that was in common.
James finished his studies with his close friend and mentor Pepe Romero.
In 1992 he began recording the first of his Cd's with Alta Nova records. His music video, "La Catedtral' was seen nationally and internationally in prime time.
James was the host of "The Acoustic Experience" television series and was the producer for Pepe Romeros" Recuerdos de la Alhambra" which won an Emmy award.
Mr. Hunley has performer over 400 paid concerts to critical acclaim. One performance of the Vivaldi Concerto prompted critic Robert Massula to write" His delivery of the Vivaldi was exquisite- beautifully phrased amazingly subtle and incredibly sure." ... Mr. Hunley is considered to be the best guitar teacher in Los Angeles by many world class guitarists including Pepe Romero.
My thoughts to potential students
This studio is about the students getting to the core of their inner music, not a way of bringing attention on me.
Teaching is not just a "gig" for me, its a mission and its about helping students awaken to their musical potential.
You need a great teacher!
The most important teacher you'll have is YOUR FIRST TEACHER
Aaron Shearer ( the teacher of Manuel Barrueco) said the reason so many guitarists fail to reach their potential is error filled repetition, aka not knowing exactly how to do each movement!
A great teacher can watch how you play, isolate the problem, help you fix it and refocus on the beauty of the music.
I'll help you train your hands and make the classical guitar easier and seem effortless.
I've been performing and teaching the Classical guitar for 40 years now and I'm still madly in love with this great journey. After the tv shows the solo concerts, the recordings not to mention the research and the music schools I've attended, my greatest joy is seeing my students get better each week and playing the music they once thought was impossible
I teach the Classical Guitar, which is also known to some as Spanish Guitar lessons, Classic Guitar lessons etc. with loving encouragement.
James Hunley Classical Guitarist. Los Angeles, Clermont Florida, Classical guitar school my cell is 323-447-8517 my email is jameshunley@aol.com
No worries, My lessons are affordable! I will work with your budget if you are serious about the guitar.
If you are in Orange County ( San Clemente ) and you need a great Classical Guitar teacher I Highly recommend Dr. Randy Pile.
Randy is a great guitarist, a college professor and his Bio would take up this full page... he's also terrific guy who's fun and helpful.
He has room for just a few students so call as soon as you can
858-459-3459
One benefit of my studio is that I offer HD video taping and sound recording to my students at no extra charge. I also lend concert guitars to students who have been in the studio for 5 or more months to take home for a week.
The price of guitar lessons in Los Angeles
The Average cost for my lessons is $55 a lesson ( 1 hour 4 lessons a month) and most of my students on a fixed income pay $ 40 a lesson per month. A single lesson is $100 for 90 minutes if you are not taking multiple lessons.
LA guitar academy is $80 an hour and most music shops are $35 per half hour or $60 for 1 hour. The Pasadena guitar studio is a little over $60 per hour.
Here is the urls for 2 schools..
www.laguitar.com www.hollywoodacademyofmusic.com Hollywood academy of music is $69 per hour, all are based on multiple lessons a month.
Please read down the page to get an idea of the concepts I teach, it may save you some time re learning technique.
Yes, I take beginning students and currently have 8 students over age 57 who are learning and loving every lesson.
**A note to my actor friends , your name will Never appear on my site or be used to promote my teaching/concerts.
I am honored that my teaching has been recommended by Pepe Romero and Christopher Parkening.
I am including this letter from Sir Pepe Romero to the teaching page.
For those of you who do not know Maestro Romero, just google his name.
Pepe is a living legend, his students are some of the worlds finest guitarists and he's the teacher of most of the guitar professors at USC.
(The Following is a letter from Pepe Romero endorsing my teaching)
Greetings my friend!
I'm glad to hear that your studio is doing well and that you are sharing your love of the guitar with students of all levels.
I am writing this letter to publicly endorse and recommend your teaching.
I know you are giving technical and musical guidance, which developing guitarists need in order to achieve mastery. I also know that you encourage students by your own inspired example to bring out their own inner musician and experience the joy of personally connecting to the guitar.
Keep up your commitment to teaching from spirit and I hope to see you soon.
un abrazo, Pepe Romero

Looking for free classical guitar music? You have to visit
www.guitarpress.com
They have great editions (some from Llobet) and excellent Bios of composers, all together it would cost at least $20,000 to buy that much music. ALL FREE!!!!!!
The other great classical guitar site is the Iceland guitar school, Free music, great advice, amazing place!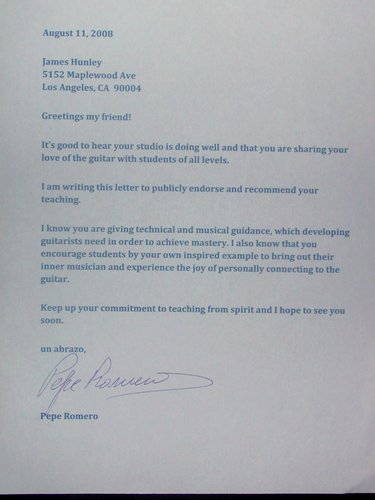 People are always asking me about Classical guitar concerts or classical guitar events in Los Angeles.
Here is a link about upcoming classical guitar concerts in Southern Califonia.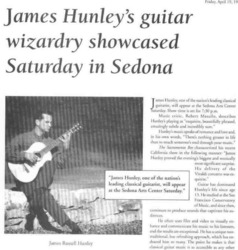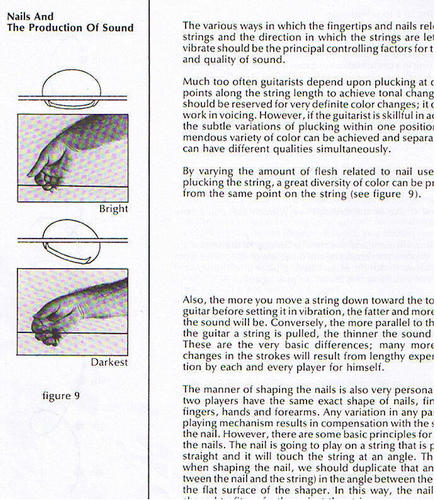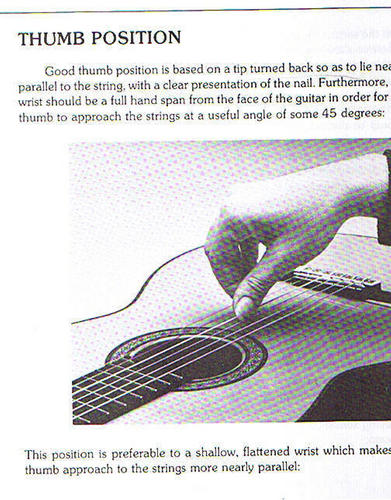 The concept that most students cannot become great classical guitarists is fortified by the people who don't really know how to actually teach " Classical Guitar technique" and by people who are not great classical guitarists themselves. They often think great playing is all about "natural ability".
Natural ability backfires when the music gets really tricky because ALL of the great classical guitarists Work hard and work smart at the top of the repertoire. If a guitarist" re-lies" on natural dexterity alone he will hit the window and it will shatter. The trick is to make classical guitar technique a fun daily routine that enhances your playing.
Which is why I love to teach beginners. Beginning students learn rapidly and join the guitar playing family for life. It's so fun to see them learn and share their excitement.
Tarregas' Left Hand technique (photo below) cuts 10 years off misguided effort and saves so much stress.
Notice his Parallel knuckles,his use of weight transfer in the left hand tip joint solves bar fatigue and that silly left hand thumb cramp from needless clamping.
*Classical Guitar technique! (Right photo) is classical guitar Maestro Andres Segovias Left hand rule , The left thumb follows the second finger to the upper strings and around the neck. This saves so much work!!!!!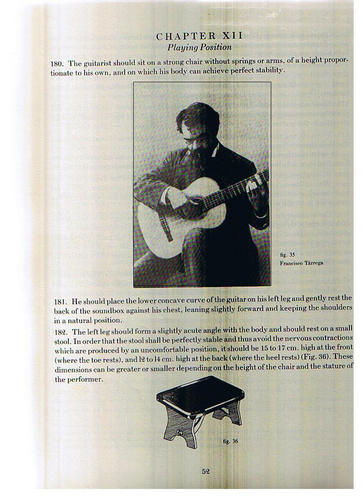 Many thanks to all of the amazing classical guitarists in the Los Angeles area and my wonderful friends Pepe and Celin Romero for their kind inspiration in my life.
There are many wonderful Classical guitar teachers out there and many wonderful students.

Good teachers come in many forms but it's the love of the classical guitar that makes a great student.
I believe that love grows by encouraging the spirit and that's the way I teach the classical guitar.
I welcome all players as brothers in the journey of touching lives and believe that we all have a unique truth to tell through our music.
I also want to say that playing the classical guitar is a well formed craft and that I am committed to teaching the techniques handed down from the masters in clear efficient detail. There is often a ( light bulb) changing moment for my advanced students who have struggled with things that are solved by very minor changes.
Remember every time you change the way you touch the string on either hand you make playing harder for yourself. This is much easier with a great teacher helping you!